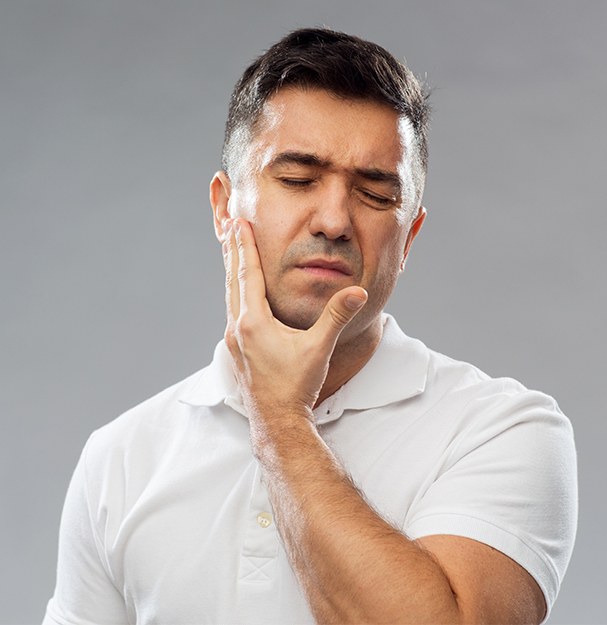 Replace Missing Teeth – Ellijay, GA
Rebuild Your Smile, Rebuild Your Confidence
One of the most common problems we solve here at Lykins Family Dentistry is tooth loss, so we're more than familiar with how devastating it can be for both someone's health and appearance. Thankfully, with custom-made bridges, dentures, and dental implants, we're able to bring back any number of teeth so our patients can eat, speak, and smile with complete confidence again. If you're eager to finally close those annoying gaps, give us a call today, and we'll get to work on a solution right away.
Why Choose Lykins Family Dentistry to Replace Missing Teeth?
Custom-Made Dental Implant Restorations Available
Two Highly-Experienced Dentists Under 1 Roof
Friendly Office with an Excellent View of the Cartecay River
What Happens if I Do Nothing?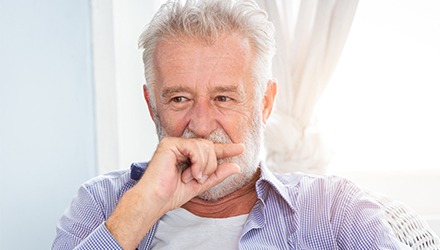 While an absent front tooth is painfully obvious, what if you're just missing a tooth towards the back that no one can see? Is it OK to just leave it alone? Unfortunately, even a single missing tooth can compromise the integrity of your entire bite. Over time, the teeth near the space will shift into it, which can throw off their alignment and prevent the upper and lower teeth from coming together properly. This can lead to excess tooth wear and even chronic pain throughout the jaw and head. Rather than waiting for this to happen, it's best to go ahead and replace any missing teeth as soon as you can.
Dental Bridges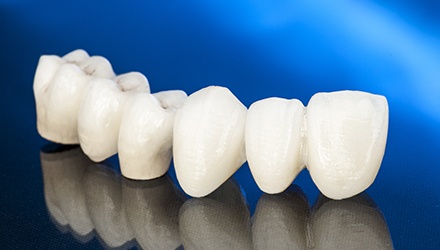 With a dental bridge, we can restore just one or even up to three teeth in a row using a single prosthetic. Two dental crowns are fitted over the teeth on either side of the missing ones, and these are bonded to additional crowns that literally "bridge" the middle. Our bridges not only allow a patient to recover their bite strength, but they also prevent the teeth shifting that we touched on above, saving a patient from serious future headaches.
Dentures & Partial Dentures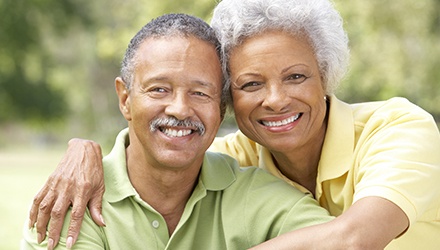 While bridges are intended to replace a small number of teeth, dentures can instantly bring back several at the same time, dramatically improving someone's oral function as well as their appearance. We can provide partial dentures that comfortably fit between any remaining teeth as well as full dentures to restore a complete upper or lower arch. In either case, our dentures are specially-designed for each patient using high-quality acrylic to deliver a secure fit and natural look.
Dental Implants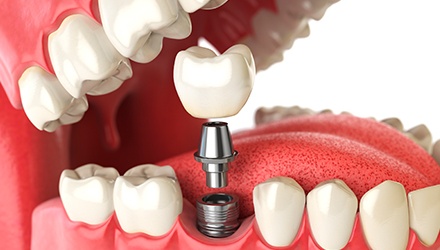 For patients with dental implants, they don't feel like they've simply replaced their missing teeth, but rather that they have gotten their natural teeth back. That's because implanted teeth are actually connected to the jawbone just like real ones using small titanium posts. This approach gives a patient's new teeth a strength and lifelike appearance that is second only to nature itself, and once in place, these prosthetics can be trusted to last for about 30 years.