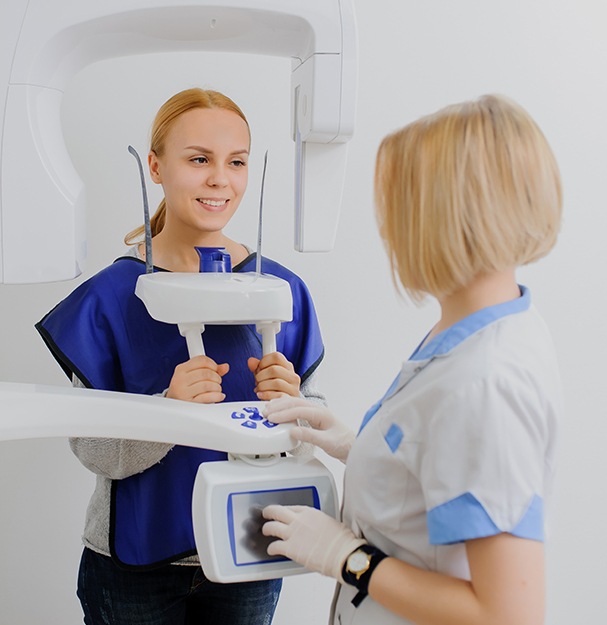 Advanced Dental Services & Technology – Ellijay, GA
High-Quality Dentistry That's Truly State-of-the-Art
At Lykins Family Dentistry, we believe in always going above and beyond for our patients, and that promise extends to the tools and techniques we use daily. Our dentists have integrated several modern technologies into the practice, as well as advanced services that you can't find just anywhere. This up-to-date approach to patient care results in several valuable benefits, including maximized efficiency, outstanding clinical accuracy, and excellent procedural comfort. Please contact us if you'd like to learn more, or if you're ready to schedule an appointment.
TMJ/TMD Therapy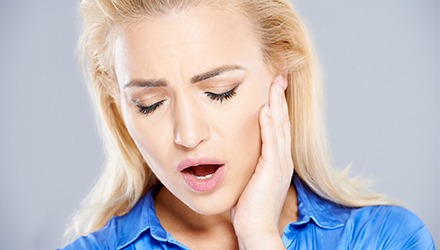 TMJ disorder (also known simply as TMD) is a very painful and oftentimes even debilitating health problem that originates in the jaw. Any dysfunction related to the temporomandibular joints, which control jaw movement, can thrown the smile's overall harmony off-balance, resulting in severe headaches, facial pain, and even sleep problems. Thankfully, our dentists know to look for tell-tale signs of TMJ disorder during routine checkups, and they can help put your oral structures back on track through dedicated therapy options like bite adjustment. Don't hesitate to let us know if you're struggling with daily discomfort – relief is closer than you think!
Nitrous Oxide Sedation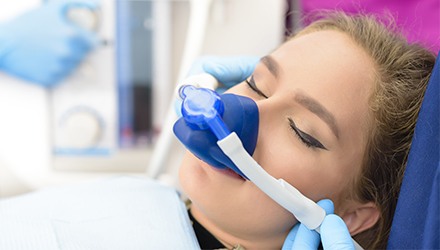 Many patients struggle with feelings of anxiety or fear surrounding the dentist's office, but nitrous oxide can help take the edge off of these negative emotions while you're in the treatment chair. More commonly known as "laughing gas," it's administered through a nasal mask that stays in place throughout the treatment process. After a few minutes of breathing nitrous oxide in, patients should feel calmer and more content while remaining conscious. One of the biggest benefits of this type of sedation is that the effects wear off very quickly once the mask is removed, which means you can go back to your daily routine with only minimal downtime!
Intraoral Camera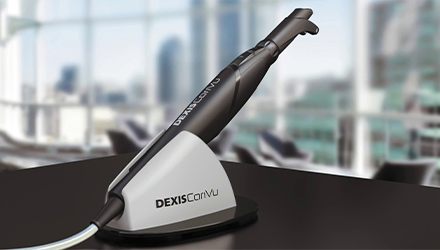 At Lykins Family Dentistry, patient education is an important priority for our doctors. That's why we utilize our DEXIS™ intraoral camera whenever possible, which sheds some much-needed light on the inner workings of our patients' smiles! By using a camera-tipped wand, we can transmit high-resolution images of the dental structure and gum tissue to a monitor in the treatment room. This visual aid goes a long way when discussing signs of concern and possible treatment options, making the overall care process much more transparent and informative.
Digital X-Rays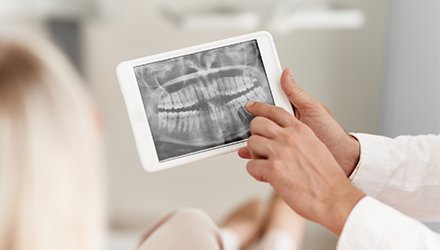 X-rays are a vital part of dental care – after all, there's a lot of information about your dental health that can't be gleaned from just a surface view! However, traditional X-rays took hours to develop in darkrooms, required the use of hazardous chemicals, and exposed patients to a significant amount of radiation. Digital radiography has transformed this diagnostic process for the better in so many ways, and they're very safe for children and adults alike. Now, the development process takes mere seconds, and any radiation exposure is kept to an absolute minimum.
Digital Impression System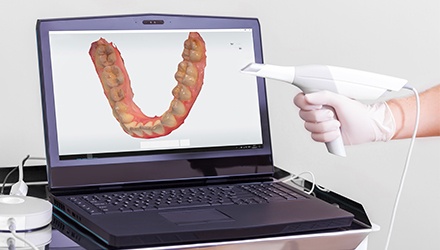 Older patients surely remember the days of sitting very still while a tray of dental putty was pressed into place over their teeth for minutes at a time. If you shudder at the thought of this memory, we have good news – digital impressions are now available at Lykins Family Dentistry! With just a series of scans, we can create a highly accurate virtual model of your mouth's hard and soft tissues. Not only is this advanced process much quicker and more comfortable for patients, but the risk of time-consuming retakes in the future is greatly reduced too.
Soft Tissue Laser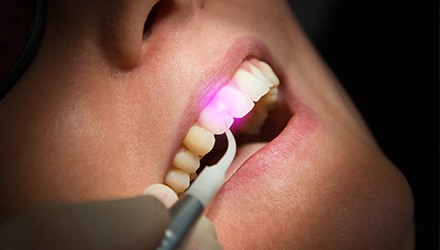 Soft tissue laser technology makes treating a patient's gum tissue more conservative and comfortable than ever before, whether we're eliminating periodontal disease or aesthetically correcting an overly "gummy" smile. The highly accurate nature of the laser minimizes common symptoms like oral swelling and bleeding, and healing is greatly accelerated as well. Most patients feel so at ease that they don't even need local anesthetic in the treatment chair!
Cavity Detection System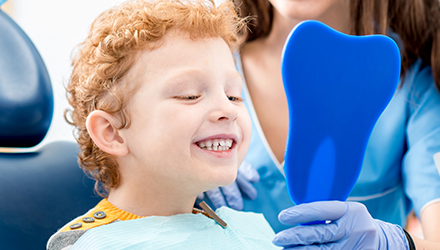 The development of cavities is a gradual process, and we want to identify them as soon as possible for the sake of our patients' health and confident smiles. With the help of modern cavity detection technology, our doctors can clearly pinpoint spots of weakened enamel during routine checkups, even in hard-to-spot areas between teeth that are usually inaccessible to the naked eye. This added insight makes it easier to stop tooth decay in its tracks and keep natural dental structure fuller and stronger over the years.